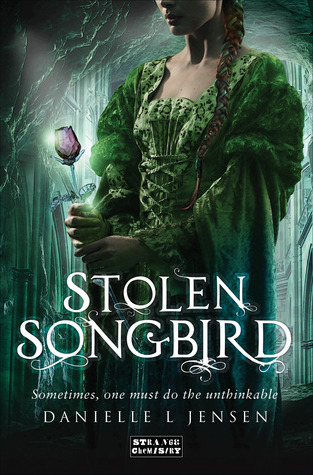 Title: Stolen Songbird

(The Malediction Trilogy #1)


Author: Danielle Jensen
Genre/s: Young Adult, Fantasy, Romance, Magic
Released Date: April 1, 2014
Add to Goodreads TBR List
Buy on Amazon | Barnes & Noble | Book Depository

Synopsis:



For five centuries, a witch's curse has bound the trolls to their city beneath the ruins of Forsaken Mountain. Time enough for their dark and nefarious magic to fade from human memory and into myth. But a prophesy has been spoken of a union with the power to set the trolls free, and when Cécile de Troyes is kidnapped and taken beneath the mountain, she learns there is far more to the myth of the trolls than she could have imagined.




Cécile has only one thing on her mind after she is brought to Trollus: escape. Only the trolls are clever, fast, and inhumanly strong. She will have to bide her time, wait for the perfect opportunity.




But something unexpected happens while she's waiting – she begins to fall for the enigmatic troll prince to whom she has been bonded and married. She begins to make friends. And she begins to see that she may be the only hope for the half-bloods – part troll, part human creatures who are slaves to the full-blooded trolls. There is a rebellion brewing. And her prince, Tristan, the future king, is its secret leader.




As Cécile becomes involved in the intricate political games of Trollus, she becomes more than a farmer's daughter. She becomes a princess, the hope of a people, and a witch with magic powerful enough to change Trollus forever.
My Thoughts:
"Your worth isn't determined by your leg – it is determined by your heart and your mind. It is determined by what you do with your life."
Being kidnapped, chased by a sluag – a slithering monster – and wedded to the troll prince was not what Cecile de Troyes planned for her birthday. But that's what exactly happened. Now, all Cecile wanted to do was to escape. She knew it won't be easy given the fact that the trolls were clever, strong and powerful. She will have to take her time. But the more she stay with the trolls the more she cares for them, especially to her husband, Tristan. How can she leave this place now, knowing that some of the trolls were relying on her to give them their freedom?
Danielle Jensen didn't change the trolls appearance to make the readers like them. She didn't make them look more pleasant or attractive or insanely handsome. She stick to what we would think a troll would look like; big, hideous and grotesquely looking creatures. But what she did differently was, she made every one of them, from lead to minor characters, come to life. A feat that is so hard to do. She also didn't create the hackneyed, insta-love/lust/attraction. Thank God! Instead, she treated Tristan and Cecile's love story like a seed that's slowly growing as time passes by, and finally, blooming into something beautiful. Their romance was organic, slow-budding, yes, but at least it was realistic. And that's how it really should be.
The darkness in Trollus didn't conceal the beauty that is in the place. The troll's captivating structures (oh, the glass gardens!), their rich culture and its inhabitants, were deeply engrossing. But unfortunately, that darkness also didn't conceal the power struggle, discrimination and cruelty of the pure blooded trolls to half-bloods and humans. The complexity of its plot - the politics between the royal bloods, their hidden agendas, the rebellion, the history behind the curse, and the plans to overthrow the king - was just unbelievably good, especially for a debut author. It's amazing and I can't wait to read the next book in this promising trilogy.
Overall, Stolen Songbird solidly landed on the top five of my 2014 debut list. It's definitely something I would recommend to everyone. If you want something fresh, unique and well-written high fantasy story, then this one's for you.
My Rating
*An ARC review copy was sent to me by the publisher in exchange for an honest review. (Thanks Strange Chemistry!)