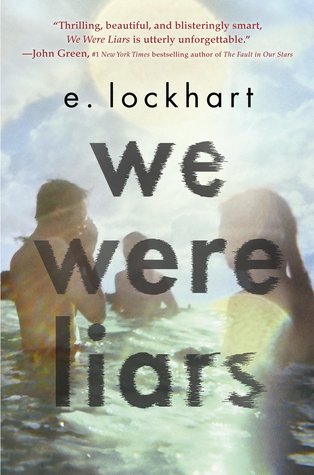 Title: We Were Liars
Author: E. Lockhart
Genre/s: Young Adult, Mystery, Contemporary
Released Date: May 13, 2014
Add to Goodreads TBR List

Synopsis:

A beautiful and distinguished family.
A private island.
A brilliant, damaged girl; a passionate, political boy.
A group of four friends—the Liars—whose friendship turns destructive.
A revolution. An accident. A secret.
Lies upon lies.
True love.
The truth.

We Were Liars is a modern, sophisticated suspense novel from National Book Award finalist and Printz Award honoree E. Lockhart.

Read it.
And if anyone asks you how it ends, just LIE.
My Thoughts:
Welcome to the beautiful Sinclair family.
No one is a criminal.
No one is an addict.
No one is a failure.
We Were Liars by E. Lockhart was a YA contemporary mystery novel with interesting but not relatable characters and unique style of storytelling that you would either love or hate. It was a meh/boring read, for me.
This is my first E. Lockhart book that's why I am so excited to read it. It's also, in the most-awaited list of every blogger I know and because of that, I expected a lot. The story opened up introducing us to the Sinclair family - how they look, how they were perceived, how they should act around everyone and how different they are from your average American family. Then we met Cadence, 18 years old, one of the younger generation of Sinclair who, based on her description of herself, is nothing like the Sinclairs, at all. And from her POV, she narrated to us, little by little, her story and what happened to her and the Sinclair before the accident in summer fifteen.
This book started off slow but I ignored it because I was intrigued. The first few chapters were really strong and it will grab you inside the story instantly. But after I read one third of the story, I found myself slowly losing interest in it.
It's probably because I didn't find any connection in any of the characters, not even to Gat. To me, as someone who belongs to a simple middle class family, the Sinclairs' problems seem silly, superficial and shallow. I know this story might be close to the truth of what is happening to rich people but I don't get why I should care about it. We all know that there is no such thing as a perfect family. It's a no-brainer and you don't need to write a book just to prove that.
And the so-called Liars, who I thought at first were the only mature ones in that family but immediately changed my mind, just reiterated the fact that alcohol-influenced activities are doomed to fail unless, of course, you're Edgar Allan Poe or Charles Bukowski, in which case you're exempted.
Overall, I really didn't get what the hype is all about. This is not something I would recommend.