"Readers will be immediately sucked into the tale, told from Cassidy's ghostly perspective, as she attempts to put together the pieces that led to her untimely death." that's what Booklist said about the debut novel, My Last Kiss, of our last featured author for this month.
Let us all welcome, Bethany Neal!
About Writing:
While you were in the process of writing this book, have you ever doubt yourself or second guess the reason why you are writing this story? If yes, how did you overcome those obstacles?
So many times I doubted why I was writing MY LAST KISS! Mostly because it was crazy hard with all the flashbacks and timeline issues that go along with an amnesiac—not to mention ghost…ish—narrator, but also because writers have serious self-confidence issues. It's just how we roll, but it's also hard to be in a business where you spend months, sometimes years, working on a project that may never see the light of day. Being an author takes a truck load of perseverance.
My main source of doubt squashing while writing MLK was very simple: the title. Every time I thought about quitting, I would tell myself that if Iwas browsing through Barnes & Noble and saw a YA book called MY LAST KISS about a dead girl caught between two boys I would 100% pick it up and buy it. That alone got me through the days I was nose-deep in flashback chapters and rewrites, and my reward is seeing it so gorgeously displayed (thanks to cover designer Elizabeth Clark) on a shiny book spine in stores.
About Getting Published:
As an aspiring author, hearing about how authors got published is always fascinating and inspiring for me. So can you tell us your journey to publication? And what was the first thing you did or said after you got the news about the book deal?
My journey to publication began with a YA paranormal trilogy that started out as fanfiction that I naively decided to query agents about. Needless to say I did not get representation off that manuscript, but I did off my next book that sadly did not sell when my agent sent it out. It did, however, get the most positive rejections an author could ever hope for. With the positive feedback, I knew I was close. So I got to work writing what ended up being MY LAST KISS.
In my initial prewriting, Cassidy wasn't the one dead. Her boyfriend Ethan was and she could see him, but when I sat down to write it she seemed too sad. Ironic twist, I killed her to make her less mopey. I'm so happy that I did too. Cassidy being a ghost…ish trying to right the wrongs of her last night alive and solve her own murder gave the book the fresh hook that it needed to sell.
When it did sell, I had the privilege of working with Janine O'Malley at FSG Books for Young Readers and the excellent staff of editors and PR folks at Macmillan. I learned so many invaluable lessons from them, and I am forever grateful for the chance they took on me as a newbie.
Oh, and the first thing I said when my agent called to tell me that we had sold MLK was "Are you serious?!" It was a very surreal moment that actually happened inside my favorite bookstore! To this day, every time I walk into the vestibule at Nicola's Books (in Ann Arbor, MI) where I took the call, I close my eyes and remember that day.
About Being an Author:
Tell us what it's like to be a published author? What was your most favorite moment in this whole experience, aside from seeing and holding a physical copy of your book?
Being an author is the best job there is as long as you don't mind some mild insanity, and I sure as heck don't mind at all. Maybe a painter has more fun than I do on a work day, but I can't paint so I'm stuck with writing. I'm not a morning person, so the biggest perk for me is the ability to slowly wake myself up before getting down to work. If you've ever had an 8 to 5 "regular" job, you can appreciate the luxury of that. I also am not a fan of stuffy rule following. So being able to create my own world with my own rules (or lack there of is probably more accurate) is pretty ideal for me, as well.
My favorite moments throughout this experience have been meeting young readers who are so excited about my book and begging me to write more so they can read those too. There's nothing better than that!
About the Book:
Just like superheroes, I think it's safe to say that books also has an origin story before they became what they are right now. It might have started out as a thought, an experience, a dialogue you heard, a conversation with a friend, or an idea that has been plaguing your brain for quite sometime. So tell us, what's your book's origin story? And what made you decide to write it?
MY LAST KISS was originally titled WHAT HAPPENED AFTER and, as I said earlier, Cassidy wasn't dead, Ethan was and it was kinda sorta Cassidy's fault. I could tell that idea wasn't quite gelling, so my writerly cogs were turning while I drove to see my family for Thanksgiving that year. I was brainstorming ideas while listening to one of my all time fave bands Metric's CD Fantasies. Then when their song "Help I'm Alive" came on, something clicked. What if the protagonist was dead…and that was a problem that needed to be fixed, something she'd need help solving?
I immediately located a napkin and began jotting down what is now the scene in Chapter 1 where Cassidy wakes up to see her other, dead body in the river. I went on to be super antisocial that entire holiday weekend because I couldn't stop writing. It was such a magical feeling. I live for that spark moment when the character's voice eclipses my own brain and demands to be written down.
Come to think of it, maybe that's my favorite part about being an author.
About the Author:
Website | Twitter | Facebook | Goodreads



Bethany Neal writes young adult fiction with a little dark side and a lot of kissing from her Ann Arbor, Michigan home. She graduated from Bowling Green State University and has worked as an interior designer, photographer, and teacher's assistant at a K-8 school.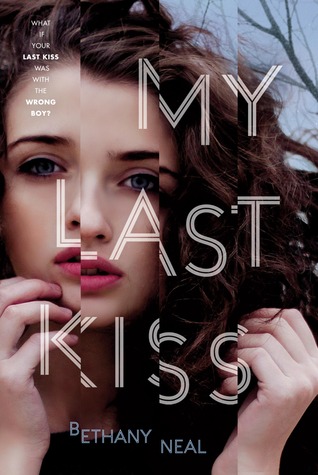 Title: My Last Kiss
Genre/s: YA, Contemporary Fiction, Mystery
Publisher: Farrar, Straus and Giroux
Publication Date: June 10, 2014
Amazon | Barnes and Noble | IndieBound | Book Depository

Summary:



She is obsessed with (but not limited to): nail polish, ginormous rings, pigs, pickles, dessert, sour gummy candies, dream analysis, memorizing song lyrics, predestined love, not growing up, music videos, Halloween, and fictional boys who play guitar.What if your last kiss was with the wrong boy?

Cassidy Haines remembers her first kiss vividly. It was on the old covered bridge the summer before her freshman year with her boyfriend of three years, Ethan Keys. But her last kiss--the one she shared with someone at her seventeenth birthday party the night she died--is a blur. Cassidy is trapped in the living world, not only mourning the loss of her human body, but left with the grim suspicion that her untimely death wasn't a suicide as everyone assumes. She can't remember anything from the weeks leading up to her birthday and she's worried that she may have betrayed her boyfriend.




If Cassidy is to uncover the truth about that fateful night and make amends with the only boy she'll ever love, she must face her past and all the decisions she made--good and bad--that led to her last kiss.




Bethany Neal's suspenseful debut novel is about the power of first love and the haunting lies that threaten to tear it apart.
Giveaway
Open to International Readers (Until November 30)