"...absorbing read...absolutely compelling." that is what Kirkus Reviews described Rites of Passage by our featured author for today. Her debut novel is unlike anything you've ever read because it is about a girl who went to military school because of a dare. If this piqued your interest then find out more about the book from its author.
Let us all welcome, Joy N. Hensley!
About Writing:
While you were in the process of writing this book, have you ever doubt yourself or second guess the reason why you are writing this story? If yes, how did you overcome those obstacles?
I've questioned lots of things at every step of my writing process, but there was never a question during the writing process for Rites of Passage. The story didn't come in the form of a dream, but every word just kind of poured out of me. I've said before that it almost fell, fully-formed from the sky. I just knew there was something special about this book and I loved every second of writing it!
About Getting Published:
As an aspiring author, hearing about how authors got published is always fascinating and inspiring for me. So can you tell us your journey to publication? And what was the first thing you did or said after you got the news about the book deal?
I've known since 3rd grade (seriously!) that I wanted to be a writer! It took me a long time to switch from the mindset that someday I would be a writer, to actually sitting in a chair and forcing myself to write to make the dream come true. Being published doesn't just fall in your lap. There are a lot of behind-the-scenes hours clocked in front of a computer screen that aren't seen by anyone, but those hours are what separate the dreamers from the published authors. It took four years of writing to secure my agent, and then another two years and two more books before I sold Rites. I was driving when I got the news and my agent told me to pull over. After I cried and called my husband and parents, I had to go pick up my kids from school. I told them (3 and 6) but they didn't really get it until they held the book with Mommy's picture in it a few weeks ago. It's funny how it was this amazing milestone in my life and how life just went on after that. I had a book deal and I still had to make lunches and drive the kids to school and wash clothes...life just goes on, but it's a little more exciting (at least for me) now!
About Being an Author:
Tell us what it's like to be a published author? What was your most favorite moment in this whole experience, aside from seeing and holding a physical copy of your book?
I think the best part about this whole experience is meeting other authors. Writing is such a solitary job and it's hard sometimes for people in my life (and any writer's life) to understand writing and daydreaming and working and scrapping an entire book and starting from scratch. It's hard. It's draining. Other authors get that, and I cling to my time with other writers because it's so important to find those people to sympathize with you, groan with you, celebrate with you.
About the Book:
Just like superheroes, I think it's safe to say that books also has an origin story before they became what they are right now. It might started out as a thought, an experience, a dialogue you heard, a conversation with a friend, or an idea that has been plaguing your brain for quite sometime. So tell us, what's your book's origin story? And what made you decide to write it?
Rites of Passage starts with my main character, Sam, starting her first day at a military school that she's going to because her brother (who is now dead) dared her to. The dare definitely has a history because I was, in fact, dared to go to military school (university, not high school). I was dumb enough to do it when I was 19. That's where the idea came from! As far as what made me decide to write it--I was in the middle of revising another book (one that my agent STILL hasn't seen) and I was stuck. Something wasn't working but I couldn't figure it out. NANOWRIMO was just around the corner and I told my agent I was going to take a break from that book and just write this crazy military school idea down, just to "cleanse my palate." And, voila!
About the Author:
Website | Twitter | Facebook | Goodreads



Born and raised in Virginia, I've come back to my roots after five years of wandering up and down the East Coast. From being a barista to editing, writing commercials for television to being a middle school/high school English teacher, there's nothing I'm not willing to try. That includes going to military school (on a dare), hiking 600 miles of the Appalachian Trail, and playing in the mud with my students!




Now, between hiking, doing obstacle course runs, and having fun with my husband and two sons, I continue to write. I am repped by

Mandy Hubbard

at D4EO Literary Agency.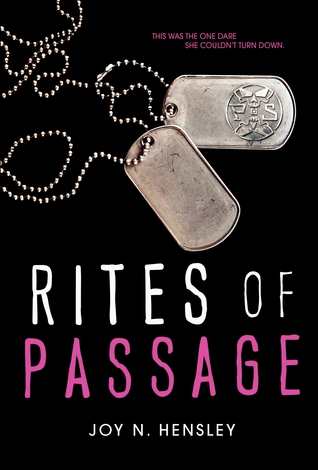 Title: Rites of Passage
Genre/s: YA, Contemporary Fiction
Publisher: HarperTeen
Publication Date: September 9, 2014
Amazon | Barnes and Noble | IndieBound | Book Depository

Summary:



Sam McKenna's never turned down a dare. And she's not going to start with the last one her brother gave her before he died.




So Sam joins the first-ever class of girls at the prestigious Denmark Military Academy. She's expecting push-ups and long runs, rope climbing and mud-crawling. As a military brat, she can handle an obstacle course just as well as the boys. She's even expecting the hostility she gets from some of the cadets who don't think girls belong there. What she's not expecting is her fiery attraction to her drill sergeant. But dating is strictly forbidden and Sam won't risk her future, or the dare, on something so petty...no matter how much she wants him.




As Sam struggles to prove herself, she discovers that some of the boys don't just want her gone—they will stop at nothing to drive her out. When their petty threats turn to brutal hazing, bleeding into every corner of her life, she realizes they are not acting alone. A decades-old secret society is alive and active… and determined to force her out.

At any cost.




Now time's running short. Sam must decide who she can trust...and choosing the wrong person could have deadly consequences.