It's 4 days before Halloween and everyone is getting ready for the spooky holiday. What better way to be in the Halloween spirit than to read a spooky book set in New Orleans where ghost stories and voodoos are abundant. Sweet Unrest is just what you need and we have the author here today, for an interview.
Let us all welcome, Lisa Maxwell!
About Writing:
While you were in the process of writing this book, have you ever doubt yourself or second guess the reason why you are writing this story? If yes, how did you overcome those obstacles?
I always doubt myself. Even when I'm reading back through a manuscript and I'm impressed with what is written, there's a little part of me that doubts I was the one who actually wrote it. I'm not sure I really overcame this obstacle—I just got through it. Partially, this was because I really didn't think the whole publication thing would work. It was only the second book I'd written and the first I'd really queried, so there was a certain freedom in not thinking anyone would actually ever read it.
But the doubts don't go away. I write a book that I believe in and my agent loves, and I still have the next blank page staring at me. It's like I tell my students, if anyone ever tells you that writing is easy or that they have it figured out, they're a lying liar who lies.
About Getting Published:
As an aspiring author, hearing about how authors got published is always fascinating and inspiring for me. So can you tell us your journey to publication? And what was the first thing you did or said after you got the news about the book deal?
My journey started really, really late. I was not one of those people who always wanted to be a writer. I knew I would write a book someday, but I always assumed it would be one of those stuffy academic books about literary criticism that no one ever reads. It wasn't until I was stuck in a new town, unemployed, and with two small kids to watch that I even thought about trying to write creatively—and that was just so I had something to do to stay sane.
I got the idea for SWEET UNREST when I was in the middle of writing a really horrible contemporary romance that will never see the light of day. I kind of plotted and planned it for a for a few months while I made myself finish writing that first book. (I'm a big believer in finishing what you start, and I wanted to make sure I could finish a book.)
I wrote the first draft in about a month, and I showed it to my husband. He liked the first half, but said it went off the rails about halfway through. He was right, so I cut 100 pages and rewrote it. I let a couple of other people read it, tweaked it for another couple of months and then sent out queries.
I got a lot of instant requests for fulls, some from pretty big agents. This was hugely exciting, but then I got a lot of instant rejections on the manuscript itself. So I knew there was something wrong with the book. I went back and revised it and queried again. Finally, the book got an agent, who put it on sub…right about the time that publishers were shying away from any more paranormal romances. I got a lot of "three years ago I could have offered for this" rejections, which was good and bad. But then, Flux liked it and offered for it. That offer came almost two years after it had first gone on sub, which just goes to show—you never know.
I got the news from my agent via email. I was sitting on my bed grading papers or something and I just kind of inarticulately slapped at my husband and pointed at the screen. Then I called my mom.
About Being an Author:
Tell us what it's like to be a published author? What was your most favorite moment in this whole experience, aside from seeing and holding a physical copy of your book?
Surreal. Like I said, I didn't really expect this to work… at least not so quickly. I'd heard and read so many stories about people with drawers full of practice novels, and I was ready to put in my time to get there. Not that I'm complaining or anything.
Being a published author still doesn't feel completely real, but so far, my favorite moment has been getting the first glimpse at the cover image. It was maybe even better than holding the book, because it was the first time I really got to see the title and my name together, on a gorgeous picture. It started to feel real right about then.
About the Book:
Just like superheroes, I think it's safe to say that books also has an origin story before they became what they are right now. It might started out as a thought, an experience, a dialogue you heard, a conversation with a friend, or an idea that has been plaguing your brain for quite sometime. So tell us, what's your book's origin story? And what made you decide to write it?
Gosh, I wish my book had a super-cool origin story that involved a dream or a dragon or something fun. Mine's a bit more boring.
I knew I wanted to try to write a YA—I'd been reading a lot of YA's, starting with TWILIGHT—and I was trying to think about what I could bring to the genre that hadn't really been done much yet. At that point, angels and vampires and werewolves and fairies had been done to death (or so publishers were saying), and I wanted to go with a different supernatural element. Eventually I thought about zombies, which lead me to Voodoo (and away from zombies) which lead me to New Orleans. Now, I studied African American literature for my Masters and have always been really interested in the history of how race has affected the US, and New Orleans is such a unique place when it comes to race and history—historically and now. I decided that the love story (because of course there would be a love story) would have to deal with race as one of the central conflicts. From that, the plot grew little by little.
But it was a scary book to write in a lot of ways. I wanted to use Voodoo and reimagine it, but I didn't want to be disrespectful to the religious tradition of the people who practice. I wanted to put my characters in a situation where there races don't matter at all…and yet their race is the only thing that does matter. I wanted the cast to be really diverse (because a bunch of white kids fooling around with Voodoo in New Orleans would have been more of a fantasy novel), but I didn't want to misrepresent or be disrespectful in the way I represented the individual characters or their voices. I'm sure I've made mis-steps and gotten some things wrong, but I also hope that the story brings something to the genre that wasn't there before.
Thanks so much for having me!
About the Author:
Website | Twitter | Facebook | Goodreads



Lisa Maxwell is the author of Sweet Unrest (Flux, Fall 2014) and Heartless Things (Simon Pulse, Spring 2016). She has a PhD in English and when she's not writing books, she's an English professor at a local college. She lives near DC with her very patient husband and two not-so patient boys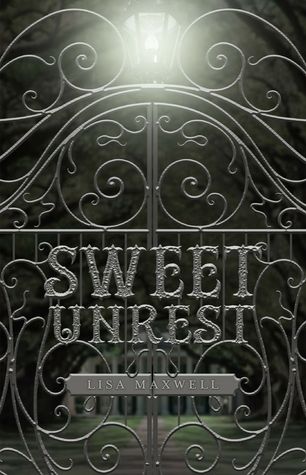 Title: Sweet Unrest
Genre/s: YA Paranormal Fantasy
Publisher: Flux
Publication Date: October 8, 2014
Amazon | Barnes and Noble | IndieBound | Book Depository

Summary:



Lucy Aimes has always been practical. But try as she might, she can't come up with a logical explanation for the recurring dreams that have always haunted her. Dark dreams. Dreams of a long-ago place filled with people she shouldn't know…but does.




When her family moves to a New Orleans plantation, Lucy's dreams become more intense, and her search for answers draws her reluctantly into the old city's world of Voodoo and mysticism. There, Lucy finds Alex, a mysterious boy who behaves as if they've known each other forever. Lucy knows Alex is hiding something, and her rational side doesn't want to be drawn to him. But she is.




As she tries to uncover Alex's secrets, a killer strikes close to home, and Lucy finds herself ensnared in a century-old vendetta. With the lives of everyone she loves in danger, Lucy will have to unravel the mystery of her dreams before it all comes to a deadly finish.
Giveaway
US Only (Until November 27)
a Rafflecopter giveaway