Today we have the awesome author of The Unhappening of Genesis Lee which is expected to be released on November 18. Kirkus Reviews said, her debut is "For anyone fascinated with thoughts of omniscience and total social connection—and who isn't?".
So let's now all welcome, Shallee McArthur.
About Writing:
While you were in the process of writing this book, have you ever doubt yourself or second guess the reason why you are writing this story? If yes, how did you overcome those obstacles?
Oh man, YES. Like a hundred times. There were moments where I was sure this book was awful and would never go anywhere, and I should just give up now. The best thing in those moments was to call/email/text a critique group member, and they'd slap me into shape by reminding me of all the great things about the story. They also reminded me that just because there are things that can be made BETTER, it doesn't mean the story is BAD.
About Getting Published:
As an aspiring author, hearing about how authors got published is always fascinating and inspiring for me. So can you tell us your journey to publication? And what was the first thing you did or said after you got the news about the book deal?
I got my agent fairly quickly (2 weeks!), so I automatically assumed the submission process to editors would be the same. It wasn't. I was on sub for 8 months. So the day my phone rang and my agent's name popped up, I started shaking before I'd even picked up the phone. I already knew we had a publisher interested, but it's a long process and there are a million points where one person's "no" means it's time to move on. So when my agent said we had an offer, I laughed like a crazy person. I said "okay" and "awesome" and giggled a lot. Then we hung up and I screamed and scooped up my children from where they were eating lunch and danced with them around the kitchen. I told my four-year-old my book was going to be a real book, and asked if he was excited. "No," he said. Nothing like kids to keep you humble. :)
About Being an Author
Tell us what it's like to be a published author? What was your most favorite moment in this whole experience, aside from seeing and holding a physical copy of your book?
Ooh, that's a toughie. Being a published author, funnily enough, isn't so much different from being an unpublished writer. Except now there's deadlines, and you suddenly have a whole team of people helping you make this book thing a reality. The biggest thing I learned is it didn't change me-- I'm still the same person, writing the same kinds of stories. My favorite moment, though, or moments, I guess, was recently being a panelist at Salt Lake Comic Con. It was so amazing to be up with other authors, sharing what we know, and having people tell me their excited to read my book. Hearing that still makes me go, "REALLY?? Thanks!!"
About the Book
Just like superheroes, I think it's safe to say that books also has an origin story before they became what they are right now. It might started out as a thought, an experience, a dialogue you heard, a conversation with a friend, or an idea that has been plaguing your brain for quite sometime. So tell us, what's your book's origin story? And what made you decide to write it?
This book has three sort of origins-- one started with reading The Giver in fourth grade, then another thread came in when my grandmother got Alzheimer's, and the final moment was the one that tied them together. My mother is very attached to objects that have special meaning to her, and she'd spent an evening telling us stories about some of them. Driving home that night, my husband commented it would be cool if we could store our memories of an object in that objected. I gasped at the force of all those threads of the story suddenly colliding in my head, and the story was born.
About the Author:
Website | Facebook | Twitter | Tumblr



Shallee McArthur originally wanted to be a scientist, until she discovered she liked her science best in fictional form. When she's not writing young adult science fiction and fantasy, she's attempting to raise her son and daughter as proper geeks. A little part of her heart is devoted to Africa after volunteering twice in Ghana. She has a degree in English from Brigham Young University and lives in Utah with her husband and two children. Her YA sci fi novel, THE UNHAPPENING OF GENESIS LEE, debuts November 4, 2014.




And because people always ask, her name is pronounced "shuh-LEE." But she answers to anything that sounds remotely close.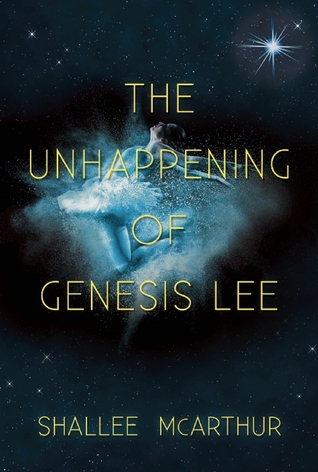 Title: The Unhappening of Genesis Lee
Genre/s: YA Science Fiction, Dystopian
Publisher: Sky Pony Press
Publication Date: November 18, 2014
Amazon | Barnes & Noble | Book Depository

Summary:



Seventeen-year-old Genesis Lee has never forgotten anything. As one of the Mementi—a small group of genetically-enhanced humans—Gena remembers everything with the help of her Link bracelets, which preserve memories perfectly. But Links can be stolen, and six people have already lost their lives to a memory thief, including Gena's best friend.




Anyone could be next. Which is why Gena is less than pleased to meet a strange but charming boy named Kalan who claims that they've not only met, but that Gena knows who the thief is.




The problem is, Gena doesn't remember Kalan, she doesn't remember seeing the thief, and she doesn't know why she's forgetting things— or how much else she might forget. As growing tensions between Mementi and ordinary humans drive the city of Havendale into chaos, Gena and Kalan team up to search for the thief. And as Gena loses more memories, they realize they have to solve the mystery fast.




Because Gena's life is unhappening around her.