We have here today the author of Don't Touch which was described by Kirkus Reviews as "An insightful look at anxiety disorders and letting go of fear." So without further ado, here's Rachel Wilson.
About Writing:
While you were in the process of writing this book, have you ever doubted yourself or second guessed the reason why you are writing this story? If yes, how did you overcome those obstacles?
Um, absolutely! During grad school at Vermont College of Fine Arts (VCFA), I dismantled Don't Touch and put it together from scratch, doing a near-complete rewrite. I had to ask myself whether I'd ever find the material that would stick. If I'd been writing in a vacuum, I could easily have come to the conclusion that I was doomed to never finish since I was struggling so much. But that's part of the process, and seeing other writers going through the same thing proved that. For me, the best antidote to doubt is to surround myself with other writers. Feeling their energy and passion for writing allows me to tap into it again, and it's the best reminder that writing often feels like wrestling and that's okay.
I don't know that I second-guessed my reasons for writing the story, but I did discover new reasons in revision as I came to understand the story better. Being open to those discoveries led me in interesting directions and added layers.
About Getting Published:
As an aspiring author, hearing about how authors got published is always fascinating and inspiring for me. So can you tell us your journey to publication? And what was the first thing you did or said after you got the news about the book deal?
I met my future agent, Sara Crowe, at an alumni event at VCFA, where she heard me read from Don't Touch. She seemed to love my reading, and I went out to dinner with her and some of her clients and got the feeling she'd be great to work with. Still, I revised for another year or so before querying. When I finally did, she was thankfully still much enthused. Don't Touch sold at auction not long after that. There were so many stages to finding out about the deal—interest from the editor, an acquisitions meeting, an editorial meeting, a phone call—that I can't pinpoint a moment when I got the news. But when a friend messaged me that the deal had been posted in Publisher's Weekly, it suddenly felt very real. I'd been checking messages in my car while parked, and I finished up and started driving, but I soon realized I was too emotional to drive and had to pull over. I'm not the most emotional person, so all that week when I had all these feelings that I didn't know what to do with, I'd watch sad episodes of Grey's Anatomy for the express purpose of crying.
About Being an Author:
Tell us what it's like to be a published author? What was your most favorite moment in this whole experience, aside from seeing and holding a physical copy of your book?
It's not terribly different from being an unpublished author except that there's more awareness from both friends and strangers that when I say I'm writing, I mean it. That's a pretty nice change because a lot of the time when you tell people you write, they assume you mean that you intend to write, one day, when you have time but that at this very moment, you're incredibly busy watching Netflix. Once there's a published book, you have physical proof that you've actually been doing all this writing. And there's awareness on my part that people I don't know are reading my book and having opinions about it. That can be scary but fun too. One reader made a fan mix for Don't Touch, and that made me feel so awesome I wanted to hug her. My friends have also been incredibly supportive—they were excited for me before, but the book actually coming out made it all more real. My favorite moment has probably been having champagne with my family and a bunch of family friends on the night of my Birmingham book launch. The event was over, books had sold, people had seemed to have fun, and celebrating with a smaller group of people I love so much was something I'll never forget.
About the Book:
Just like superheroes, I think it's safe to say that books also have an origin story before they became what they are right now. It might have started out as a thought, an experience, a dialogue you heard, a conversation with a friend, or an idea that has been plaguing your brain for quite some time. So tell us, what's your book's origin story? And what made you decide to write it?
If my book were a superhero, it would be one that went through a shocking mutation. I knew I wanted to write about OCD because it had such an impact on me as a kid, but the story changed shape over time. For a while, the book that would become Don't Touch was called Manatee and featured—yes, a manatee—as well as a ballet dancer who breaks both her legs. As I zeroed in on the story, it became more and more compelling to me so that I'm not sure I ever decided to tell this particular story. It evolved into what it is now very gradually.
About the Author:
Website | Twitter | Facebook | Goodreads



Rachel M. Wilson received her MFA in writing for children and young adults from Vermont College of Fine Arts. Don't Touch(HarperTeen) is her first novel. Her eerie digital short, The Game of Boys and Monsters, recently came out with HarperTeen Impulse. Originally from Alabama, Rachel now writes, acts, and teaches in Chicago, Illinois.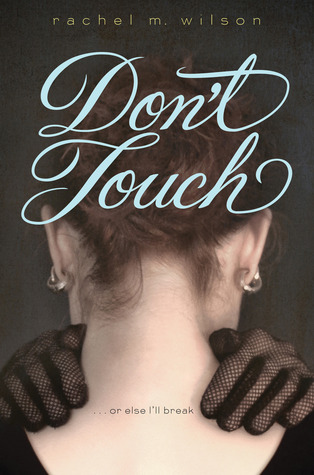 Title: Don't Touch
Genre/s: YA, Contemporary Fiction, Romance
Publisher: HarperTeen
Publication Date: September 2, 2014
Amazon | Barnes and Noble | IndieBound | Book Depository

Summary:



A powerful story of a girl who is afraid to touch another person's skin, until the boy auditioning for Hamlet opposite her Ophelia gives her a reason to overcome her fears.




Step on a crack, break your mother's back. Touch another person's skin, and Dad's gone for good.




Caddie can't stop thinking that if she keeps from touching another person's skin, her parents might get back together... which is why she wears full-length gloves to school and covers every inch of her skin.




It seems harmless at first, but Caddie's obsession soon threatens her ambitions as an actress. She desperately wants to play Ophelia in her school's production of Hamlet. But that would mean touching Peter, who's auditioning for the title role—and kissing him. Part of Caddie would love nothing more than to kiss Peter—but the other part isn't sure she's brave enough to let herself fall.




Perfect for fans of Laurie Halse Anderson, this debut novel from Rachel M. Wilson is a moving story of a talented girl who's fighting an increasingly severe anxiety disorder, and the friends and family who stand by her.
Book Trailer
GIVEAWAY
US Only (Until November 17)