We have the awesome author of Salt and Storm today. Her book was described by Kirkus Reviews as "[A] sensuous fantasy for fans of watery paranormals." Let's welcome to the blog, Kendall Kulper.
About Writing:
While you were in the process of writing this book, have you ever doubt yourself or second guess the reason why you are writing this story? If yes, how did you overcome those obstacles?
Oooohhh, yes… I think every writer has a moment (sometimes many moments) during a project where the doubts start to build up. For me, I've learned that if I'm not feeling excited or comfortable or interested about what I'm writing, it's a sign that I've made a wrong decision somewhere. And really—that's okay. When I first started writing, I would get really frustrated when things went slowly or when my writing wasn't great, and I'd try to slog right through it, but now I stop, take a step back, and really think about what it is that I'm not connecting with. I've come to think that these doubting moments are good, because they're my writer intuition telling me that I can make something better.
About Getting Published:
As an aspiring author, hearing about how authors got published is always fascinating and inspiring for me. So can you tell us your journey to publication? And what was the first thing you did or said after you got the news about the book deal?
Well, things went veeeeery slow, and then very very fast! SALT & STORM is the third manuscript I've written, and in retrospect, I am so glad for that, because those first two books were not ready to get out into the world.
I first started querying SALT & STORM in November 2012 and signed with my fab agent, Sara Crowe, in February 2013. I did a quick revision with Sara and then she started sending out the manuscript, and honestly, I didn't expect to hear anything for a while, so I was really pleasantly surprised when only a few days later Sara said she had some interest!
We set up a call with an editor from Little, Brown, and we clicked immediately—I was so impressed with her take on SALT & STORM and her approach to editing. When Sara said they made an offer, I was thrilled to accept, and it's been an absolutely wonderful experience working with them!
I think the first thing I did after Sara told me the news was to jump up and down and try to explain to my dog that I was going to be a published author! She was not impressed, so then I called my husband, and his reaction was a little more enthusiastic.
About Being an Author:
Tell us what it's like to be a published author? What was your most favorite moment in this whole experience, aside from seeing and holding a physical copy of your book?
It's been great so far! I've wanted to be a children's book writer ever since I was little, and there's something really special about fulfilling a lifelong dream—I feel so lucky to have had the support from friends and family to have accomplished this!
Probably my favorite moment so far was going to the American Library Association conference in Las Vegas. It was the first time I signed copies of my book, talked to readers, and met with other authors, and I had the greatest time. Developing friendships with authors—especially authors I've admired for many years—has been really wonderful (and surreal).
About the Book:
Just like superheroes, I think it's safe to say that books also has an origin story before they became what they are right now. It might started out as a thought, an experience, a dialogue you heard, a conversation with a friend, or an idea that has been plaguing your brain for quite sometime. So tell us, what's your book's origin story? And what made you decide to write it?
I had just finished a book that was set on an island, and while I really liked the story, I felt like it didn't quite capture the feel of an island community—the mix of comfort and isolation. I decided to write my own island story, and when I started thinking about what kind of book I could set on an island, I turned to Martha's Vineyard (which I've visited my whole life) for inspiration. The whaling industry felt like such a rich, but untapped, piece of history, and the more I learned, the more excited I got. Once I began reading about real women who crafted good luck charms for sailors, I had an idea for the story, and I knew I had to write it!
About the Author:
Website | Twitter | Facebook | Goodreads



Kendall Kulper writes historical fiction with a fantasy twist for teen readers and knows more about nineteenth century whaling than she ever imagined. Her debut YA novel, SALT & STORM will be published by Little, Brown September 23, 2014. She graduated from Harvard University with a degree in history and literature in 2008 and spent several years as a journalist before deciding to write full-time. She grew up in the wilds of New Jersey and now lives in Boston with her husband, daughter, and chronically-anxious Australian Shepherd mix, Abby.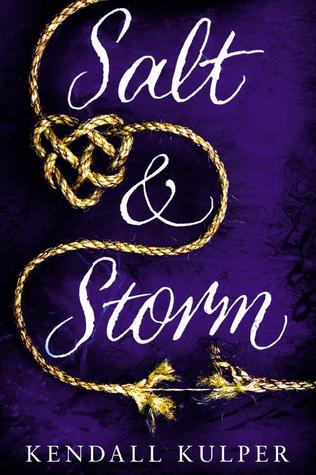 Title: Salt and Storm
Genre/s: YA Paranormal Fantasy
Publisher: Little Brown BFYR
Release Date: September 23, 2014
Amazon | B&N | IndieBound | Book Depository




Summary:

You don't know what you must give up to become a witch.


Avery Roe wants only to claim her birthright as the witch of Prince Island and to make the charms that have kept the island's sailors safe at sea for generations, but instead she is held prisoner by her mother in a magic-free life of proper manners and respectability.




Avery thinks escape is just a matter of time, but when she has a harrowing nightmare, she can see what it means: She will be killed. She will be murdered. And she's never been wrong before.




Desperate to change her future, Avery finds a surprising ally in Tane—a tattooed harpoon boy with magic of his own, who moves her in ways she never expected. But as time runs out to unlock her magic and save herself, Avery discovers that becoming a witch requires unimaginable sacrifice.




Avery walks the knife's edge between choice and destiny in Kendall Kulper's sweeping debut: the story of one girl's fight to survive the rising storm of first love and family secrets.